5,618 total views, 1 views today
Hair in particular is the only part that has complete freedom and   tells how  tyrant you are. Good hair makes you feel confident and energetic and as we all know first impression is the best impression.  Hair fall has started becoming every household problem. In present time people are scared seeing loose hair on their scrunchies, clothes and everywhere.Good looks with sheer confidence will make you stand out and that's only possible with Anveya hair growth vitaliser
Don't we all need a beautiful start with our best foot forwards? So why are you compromising on your hair health at all? . Its ingredients that include Redensyl drive two times better hair growth than the ordinarily available Minoxidil swiss biotech. And the cherry on top is that it is a clinically proven and safer option that will fight hair fall and hair breakage without causing any damage. So, what are you waiting for?
Anveya Hair Growth Vitaliser
The Anveya hair growth vitaliser is a natural product designed to help people with thinning hair. Many benefits come from using this product, such as reducing the appearance of scalp and follicle infections. This also helps in slowing down the aging process in your skin, and helping to combat any dandruff issues .
This vitalizer activates hair stem cells and stimulates hair growth as Hair on the scalp grows about 3 to 4 mm/day or about 6 inches per year. The Anveya hair growth vitaliser help keep your hair and scalp nurture and prevent hair damage. The Anveya hair growth vitalizer ties up with many products.
Why should you use Anveya Hair Growth Vitaliser?
Anveya hair growth vitaliser is a revolutionary new product that helps with hair growth. It contains an advanced formula of essential oils, vitamins, and minerals that nourish the scalp. The ingredients promote hair growth by boosting circulation to the follicles as well as providing essential nutrients for healthy hair production. This is a great option if you are looking for a natural solution to grow your hair back or just want healthier locks!
If you're looking for a natural way to maintain your hair and get more of the vitamins, minerals, and nutrients it needs to grow healthily then this is one product that can help. Don't worry about spending money on expensive products when something like Anveya Hair Growth Vitaliser might work just as well, if not better than them!
Benefits of using Anveya Hair growth vitaliser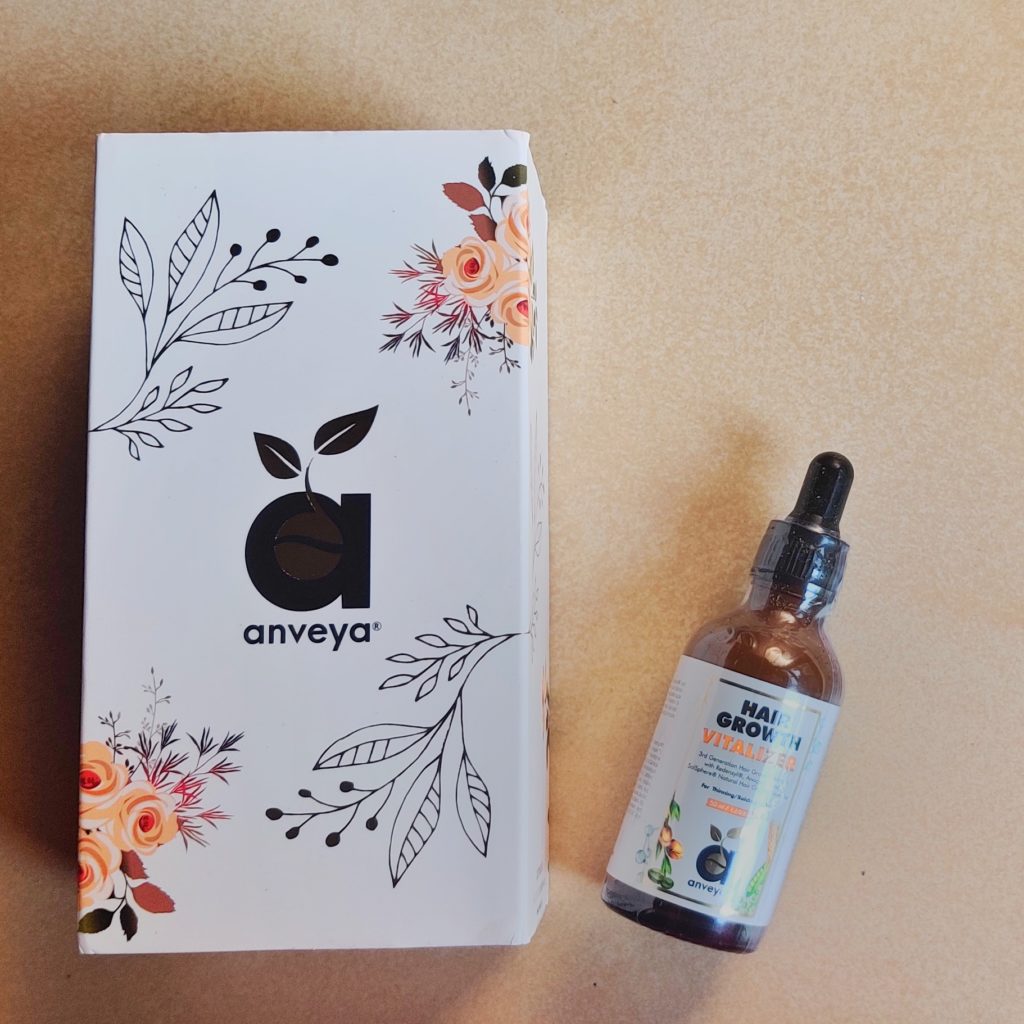 We break down Anveya hair health vitaliser into its convenient and functional benefits that will sort out all your ambiguities and convince you right into having it immediately!
• One of the constituents of this health vitaliser is Argan oil that is popular for its hair repair and nourishment qualities that will revitalize your hair and give thick volume.Not only this, it also initiates new hair growth by activating the hair stem cells.
• Now you can improve your hair diameters and progress faster growth as it has clinically proven ingredient SalSphere. SalSphere is made from a concentration of apple extract
• It also contains green tea and hydrolysed wheat protein that will minimize hair loss significantly. This also giving strength and nourishment to your scalp and hair.
• Moreover, it contains powerful ingredients, such as vitamins A, C, and E.which are known to stimulate the scalp and encourage the regrowth of healthy hair. This makes it an excellent addition to any hair care routine for those who want fuller-looking locks in no time.
How To Use Anveya Hair Growth Vitaliser?
You can use this hair growth vitaliser by following steps that are as follows:
• Apply a generous amount of this serum on your scalp, majorly in the hair loss area.
• Keep massaging on your scalp by using your fingertips. After that, wash your hands.
• Make sure to apply the serum every day before going to bed.
It is a miraculous hair vitalizer that is all in all for your long-lasting healthy hair. But keep in mind that, as it has natural ingredients, the result wouldn't come instantly. It's better to use it for 3 months to see significant results.
Conclusion
Hair loss occurs mainly due to the thinning of hair on the scalp. It may be temporary or permanent. Hair loss occurs both in men and women, but it is more commonly seen in men. Anveya vitaliser is beneficial which includes enhancing hair growth, increasing structure and volume of hair . It is non-sticky and non-oily so that you can easily use it on a daily basis and is very helpful in controlling hair fall.
#anveyaliving #anveyahaircare #hairgrowthserum #hairgrowthoil #hairgrowthspray #hairfallserum #hairfallcontrolserum #hairfallcontroloil