2,774 total views, 1 views today
Did you know that you can get a clue about your body's wellness through your oral health?
In fact, you can protect your health a lot by making a subtle change in your oral wellness kit. The mouth is the entry point to the respiratory and digestive tract, and the gums absorb whatever we use for oral hygiene. Daily brushing is the natural defence we choose. And for healthy gums, it's essential to pick an Ayurvedic toothpaste.
But, Why Should A Family Choose Ayurvedic Toothpaste Instead of Other Pastes?
Evolved in India for about 3000-5000 years ago, Ayurveda is practised till now because of several beneficial reasons. Traditional medicines have always been a part and parcel of every family. Be it physical or mental wellness, Ayurveda focuses on treating all of them with active herbal ingredients.
Healthy gums and mouth are the best way to contribute to overall physical health. The only way to achieve this goal is by brushing teeth with a toothpaste having the right ingredients. Ayurvedic toothpaste contains natural elements to wash out the bacteria without the help of any harmful chemicals.
Moreover, natural ingredients like herbs and barks freshen an individual's breath for the whole day long. Ayurvedic toothpaste neither has any harmful chemicals or any artificial colours.
And do you know why it's important to have such a toothpaste with no artificial colours?
Many toothpastes use artificial bleaching agents that can not just discolour the teeth after a while but can also harm them a lot. Whereas Ayurvedic toothpaste use ingredients that are gentle on teeth, and with no added chemicals!
Which Is The Best Ayurvedic Toothpaste For Oral Care?
So now as the benefits of Ayurvedic toothpaste is clearer, it's essential to invest in such a product that would benefit your overall health. How to choose such a product is tedious, because there are so many toothpastes available out there claiming to be Ayurvedic.
I have always chosen to stick to ayurvedic products for my family, Hence, I have been using Ayurvedic toothpaste for quite a long period. In the previous days, I started to look for such a product that would be the blend of best of Ayurvedic herbs. And after that, with a good amount of research, I stumbled on An ayurvedic toothpaste by Vicco.
There are four different variants of Vicco toothpaste available on their official website, and stores too – Standard, Sugar-free, Saunf (Fennel), and Dalchini (Cinnamon) Flavour. I and my family tried each variant to explore more about the ingredients and flavours. All the toothpastes are vegan and cruelty-free.
Vajradanti Paste –
The Vajradanti paste is best for sensitive teeth. It also protects from different dental problems like cavities, bad breath, yellow teeth, and plaque.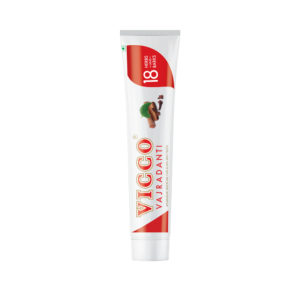 Vicco Sugar-free Paste –
This toothpaste is best for elders in the family suffering from diabetes. It not just gives extra care to teeth, but also fights tooth decay and other related problems. No artificial sweetener or sweetening agent is used in this paste.
Vicco Vajradanti Saunf Flavour
Fennel Seeds also popularly known as Saunf has enormous benefits for teeth. The herbs fight effectively with gum disease and plaque issues by leaving the mouth refreshed throughout the day. The toothpaste has a very good flavour and it's best for kids.
Vicco Vajradanti Dalchini Flavour –
Cinnamon also popularly known as Dalchini has several microbial effects to prevent teeth problems. This toothpaste is best for those individuals suffering from tooth decay.
What attracted me the most about these products is its features and ingredients. The toothpastes don't include coarse abrasives, fluoride, or any kind of added colour. The compatible package makes it more comfortable for me to carry it anywhere. Hence, the benefits of the toothpaste are endless, yet I would like to share some with you all below –
Some Essential Benefits Of The Product You Must Know About!
Vicco vajradanti toothpaste is a blend of 18 barks and herbs, and the brand itself is trusted over generations of users. Before buying the product I gave my best time to understand more about its ingredients.
The major ingredient of this Toothpaste is babul, which reduces plaque and inflammation. Bakul treats bleeding gums, toothaches, whereas Vajradanti strengthens the teeth. Other ingredients of the toothpaste include Laung, Bor, Akhrot, Akkal – kadha, Dalchini, Khair, Amla, Behada, Maifal, and a lot more!
All these active ingredients are permitted by the government under the Ayurvedic drug license, making the toothpaste more trustable. And the best part is there are no refined sweeteners used!
Switching the toothpaste might seem confusing initially, but it's indeed a big step towards your health. This slight change can bring a lot of happiness in the long run, and the proof is your family's happy and painless smiles! It's never too late to make a decision, and if it's a natural alternative, then you must do it right away.
This blog post is part of the blog challenge 'Blogaberry Dazzle' hosted by Cindy and Noor Anand Chawla, and happily SPONSORED BY RRE Studios and SHOWCASE Events.